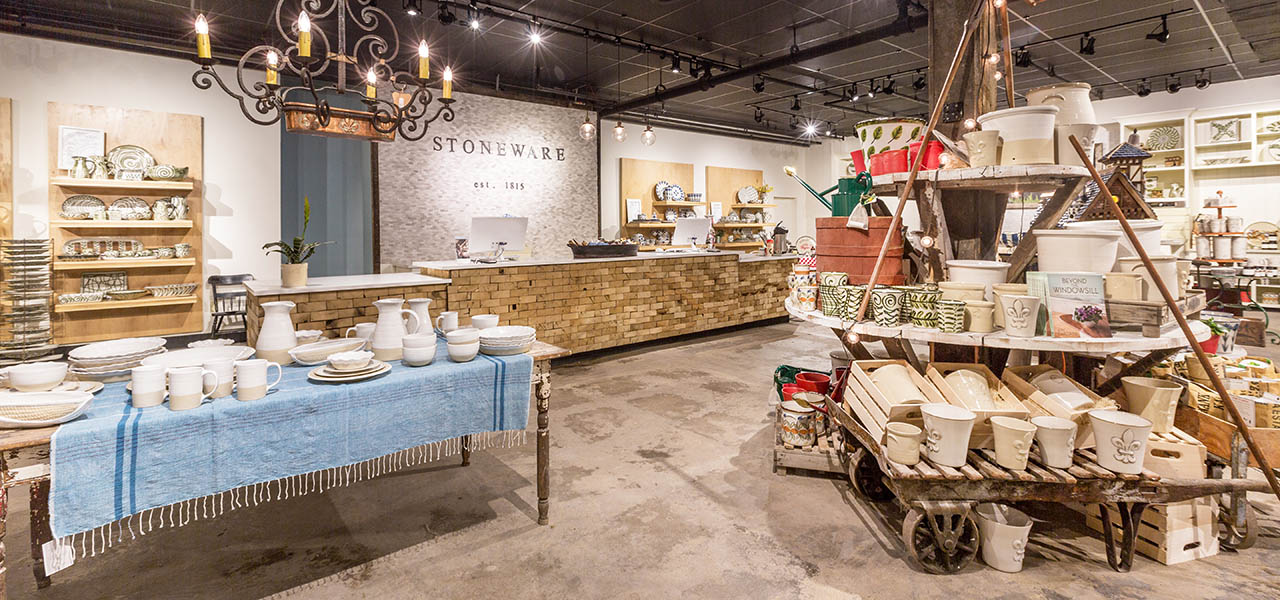 EVENTS
An Event Space with Limitless Potential.
Host your company's next party in our newly designed showroom or charming outdoor garden.
Features: 
Comfortable, open space for all size and types of parties depending on the nature of the event.
State of the art, GE Monogram kitchen.
We can assist you with a list of caterers, or you are welcome to bring your own.
A private and unique Louisville experience.
We also provide box lunches via The Cafe restaurant.
Box Lunches from The Café are perfect for bus tours, large groups, and office lunches.
They have an extensive menu of options so please feel free to browse their sandwich menu below and you can place an order for your group. Please complete this order form and submit the form to your Stoneware & Co. Representative.
Box lunches include a selection of one signature sandwich, one side, a chocolate chunk cookie, and a drink for $15. Choose from sides such as Seasonal Fruit, Fiesta Bean Salad, Pasta Salad, or Potato Chips. Gluten-free bread available upon request.
THE CAFE MENU:
THE EDWARDIAN
Roasted turkey breast, Swiss and Cheddar cheeses, bacon, lettuce, tomato and Dijonnaise dressing served on artisan walnut wheat bread.
THE LOUIS XIV
A generous portion of our Country Chicken Salad made with fresh Gala apples, celery & pecans in a sweet-and-savory mayonnaise. Served on our artisan walnut wheat bread and garnished with fresh Gala apple slices and fresh crisp leaf lettuce.
THE RENAISSANCE
Thinly sliced Genoa salami, baked ham and Swiss cheese on our signature French baguette with homemade olive relish, banana peppers, lettuce, tomato and Italian dressing.
THE VICTORIAN
Our tangy Pimento cheese, served on artisan walnut wheat toast. Garnished with lettuce and sliced tomato.
THE QUEEN ANNE
Our homemade Benedictine cucumber spread served on artisan walnut wheat bread and garnished with sliced cucumbers, bacon and lettuce.
​THE NEOCLASSICAL
Thinly sliced carrots, cucumbers, red onions and sliced banana peppers with lettuce and tomato on artisan walnut wheat bread with our special miso-dill ranch cream cheese.
​THE ART DECO
"Not your mother's BLT!" This bacon, lettuce and tomato sandwich is made with the addition of zesty guacamole spread and red onion slices. Served on artisan walnut wheat toast.
​THE FRENCH PROVINCIAL
Thinly sliced turkey breast, roast beef and Swiss cheese piled high on our signature French baguette and topped with lettuce tomato banana peppers and Italian dressing.
We're happy to help you plan your next corporate event. For information and reservations contact us at 502.582.1900 or email us at events@louisvillestoneware.com. You can also email us using the form below.
O U R  C O M P A N Y
OUR COMPANY MISSION
IN-STORE EVENTS
V I S I T  U S
731 Brent Street,
Louisville, KY 40204
Hours:
Monday - Saturday
10am - 4pm
Sunday
11am - 3pm
C U S T O M E R  S E R V I C E
jrichey@louisvillestoneware.com
5 0 2 . 5 8 2. 1 9 0 0